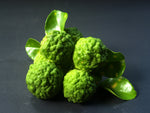 Know Your Scent: Bergamot
Scent is one of the most powerful tools that has been used for centuries. Each one possesses the ability to transform and elevate your space. So we've decided to feature our favorite fragrances that we think you should know about. Today, we're featuring Bergamot.  
Bergamot(Citrus bergamia), is a fragrant citrus fruit. It's native to tropical Asia, but heavily cultivated in Southern Italy along the coast. They grow to be the size of an orange and are typically yellow or lime green in color depending on the ripeness. 
Known for its bright and sweet citrusy aroma, it has a floral edge that complements many fragrances such as rosemary, sandalwood, jasmine and vetiver. You will often find Bergamot in your favorite perfumes and colognes, such as Le Labo's Bergamote 22, Dior's Sauvage, Byerdo's Palmer, Tom Ford's Venetian Bergamot and many more. For the tea lovers out there, you'll recognize this scent if you drink Earl Grey tea! 
Benefits of adding Bergamot to your life:
Known to ease anxiety, disappointment, grief and stress.

In fact, a 2015 study on women in Japan discovered that it reduced feelings of anxiety and fatigue when mixed with water vapor. Research from another study found bergamot to be effective at reducing patients' stress while waiting to be seen at a health center.  
Effective as a mood regulator. 

A 2013 study on Aromatherapy and the Central Nervous System, found that bergamot is effective in triggering the release of dopamine and serotonin in the brain, helping to reduce symptoms of depression. 

Helps with pregnancy relief.

Bergamot is commonly used in aromatherapy to relieve many troublesome pregnancy symptoms, such as fatigue and nausea.
Bergamot is one of our favorite fragrance notes for all the reasons above, which is why we let it take centerstage in our Bergamot + Ambergris candle! We recommend using this after a long day in the office or if you're having guests over to help create a calming ambiance to your environment.